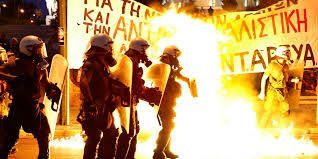 Greece's parliament has voted to accept substantial economic reforms needed before the country can receive a fresh bailout worth as much as $96 billion.
The heavily indebted country needs the bailout money to avoid bankruptcy and a 'Grexit' from the euro, but the reforms are extremely unpopular.
Many Greeks resent that European lenders are imposing such harsh, strict reforms on their pension and tax systems.
For months, Prime Minister Alexis Tsipras and his Syriza party rallied against the reforms. But Tsipras was forced to accept them as the country tottered on the brink of bankruptcy.
Greece's parliament formally approved the following measures:
- Reform the tax code to raise additional revenue for the government. This will include raising sales taxes on restaurant meals and other items to 23% and eliminating tax discounts on popular Greek islands.
- Overhaul the pension system, which will include setting the standard retirement age at 67 to discourage people from retiring early.
- Safeguard the independence of the nation's statistics agency, the institution responsible for data tracking the nation's debt and economic growth.
- Implement rules to meet budget targets, which could require additional spending cuts.
Greek parliamentarians debated late into the night as protesters waited outside.
The IMF had participated in the previous Greek bailouts, but is not directly lending money to Greece this time around after the country defaulted on two IMF debt payments over the last three weeks.
Eurozone nations, along with the European Central Bank and the IMF, have already loaned Greece roughly 233 billion euros ($255 billion) in rescue financing since 2010.
They are unwilling to lend Greece any more money without promises that it will get its financial house in order.
Ask us about our FREE financial advice program:

Other Top Stories:
Technical Analysis Lesson 1 - Introduction
How I Made Over $30,000 a Year by Investing in Binary Options
Follow us and SHARE this story on Facebook: