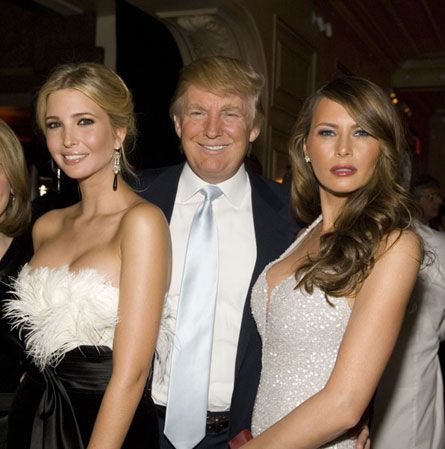 Thousands of people are expected to stream into an events center in Dubuque, Iowa, on the banks of the Mississippi River on Tuesday to see Donald Trump.
When they do, his presidential campaign will be waiting, looking to convert casual gawkers into hardcore supporters who will cast votes for the billionaire presidential candidate in the Iowa caucuses next year.
The Republican front-runner's surging campaign is largely viewed as powered by his personal celebrity and his persistent presence on television.
But there's another political upside to being one of the most famous men in America: You don't have to go knocking door-to-door to find voters. They come to you.
When those voters enter the Grand River Center on Tuesday evening, they will immediately be diverted to tables where Trump's staff will recruit them to be county precinct captains, organizers, and volunteers.
It's a huge competitive advantage in a presidential race in which other Republican candidates at times struggle to attract crowds in the hundreds.
It's another reason, beyond strong poll numbers, that Trump's candidacy is being viewed with increasing seriousness both inside and outside Iowa, which holds one of the earliest nominating contests in 2016.
"I've never seen anything like it," said Chuck Laudner, Trump's top organizer in Iowa, as he walked the event space with Reuters days prior to the event. "He's drawing crowds that most candidates only get in the weeks before the general election."
Laudner talks like a man who, after years of fighting the political wars in Iowa with a cap gun, has been handed a shoulder-fired missile launcher.
In the 2012 election, Laudner drove his pickup truck to every county in the state on behalf of Republican candidate Rick Santorum, who was running a shoestring operation. Santorum ended up pulling off a shocking first-place finish in the caucuses.
Skeptics say Trump will fade once voters turn serious about choosing a president come autumn and doubt he has the patience and fortitude to build a grassroots machine not just here but across the country.
Trump's star power and personal fortune have warped the traditional rules that govern campaigning in the state, upending the retail politics that Iowa is known for. When Trump landed his helicopter earlier this month at the Iowa State Fair, he was mobbed by a crowd in the thousands. Last week, he almost filled a sports stadium in Mobile, Alabama.
"His reach is just so far beyond what the rest of these guys can do combined," Laudner said, referring to Trump's opponents. "It's all new territory."
Recent winners of the Iowa caucuses have been campaigns with large resources and strong organizations, such as George W. Bush in 2000 and 2004, or conservatives who appeal to the evangelicals in the state, such as Santorum and Mike Huckabee, who won in 2008.
Trump, like Bush, could have the potential to outspend his rivals here while also appealing to the influential right-wing. His best-funded challenger here, Jeb Bush, is unpopular with those voters.
Trump has 10 paid staff members in the state and most likely will be adding more. One recent innovation has been to send a large tour bus emblazoned with the Trump logo from town to town. It has become its own curiosity, drawing crowds even though just one or two staffers, not Trump, are aboard. The bus even has its own Facebook page.
Trump's campaign hopes to do what has been a long-held goal of politicians in Iowa: bring new voters into the caucus process. Despite the relentless coverage the contest receives here, about only 120,000 Republicans participated in 2012, 20% of the registered Republicans in the state.
Ask us about our FREE financial advice program:

Other Top Stories:
Technical Analysis Lesson 1 - Introduction
How I Made Over $30,000 a Year by Investing in Binary Options
Follow us and SHARE this story on Facebook: