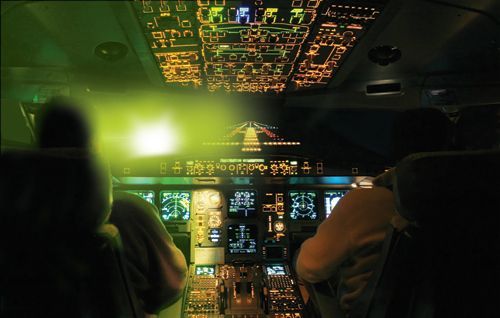 Pilots on four commercial flights reported being targeted by green lasers during flights over New York Thursday, the Federal Aviation Administration said.
According to the FAA, the flights – American 185, Shuttle America 4213, Delta 2292 and Delta 2634 – were flying at an altitude of 8,000 feet approximately four miles northwest of Farmingdale on Long Island when the pilots reported that lasers were illuminating their aircraft, a federal crime.
The planes were flying out of John F. Kennedy international Airport.
The incidents all occurred between 9:30 and 10 p.m. No injuries were reported, and the flights all continued without further incident.
Authorities are investigating, but at this point no one has been taken into custody.
Pointing a laser into the cockpit of a plane carries a maximum of five years in federal prison and a quarter of a million dollars fine.
Ask us about our FREE financial advice program:

Other Top Stories:
Technical Analysis Lesson 1 - Introduction
Technical Analysis Lesson 2 - The Basic Assumptions
How I Made Over $30,000 a Year by Investing in Binary Options
Follow us and SHARE this story on Facebook: