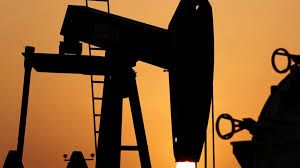 Oil prices extended their gains on Friday, helped by a decline in U.S. oil inventories as investors turn their attention to next week's OPEC meeting.
Brent crude for July delivery recently rose 0.9% to $63.17 a barrel on London's ICE Futures exchange. On the New York Mercantile Exchange, West Texas Intermediate futures for July were trading up 1.1% at $58.32 a barrel.
U.S. commercial crude-oil inventories fell by a more-than-expected 2.8 million barrels last week, the U.S. Energy Information Administration said Thursday.
Lower oil imports and a rise in crude processing were behind the fourth consecutive inventory draw, analysts at Commerzbank said. Gasoline demand was also healthy and reached its highest since 2007.
"The summer driving season in the U.S. has thus started with a vengeance," the bank said.
However, U.S. crude production jumped to 9.57 million barrels a day after several weeks of declines. The EIA also reported that March production was 9.53 million barrels a day, the highest since the 1970s.
"Yesterday's data showed a mixed sentiment as the bearish production increase was offset by a bullish inventory decrease," said Daniel Ang, analyst at Phillip Futures. "As a result of this, we were seeing the bulls and the bears fighting fiercely."
Ask us about our FREE financial advice program:

Other Top Stories:
Technical Analysis Lesson 1 - Introduction
Technical Analysis Lesson 2 - The Basic Assumptions
How I Made Over $30,000 a Year by Investing in Binary Options
Follow us and SHARE this story on Facebook: