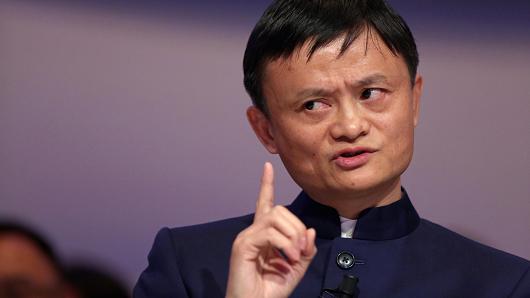 Alibaba's astronomical Singles' Day sales failed to boost its share price, with shares closing down 2 percent in New York on Wednesday, so what happened?
The e-commerce giant handled $14.3 billion in sales over the 24-hour shopping period, a 60 percent increase compared to 2014. At first the stock was up until the 51-year old founder Jack Ma made some cautionary comments about growth expectations in China and the impact on Alibaba.
The Company's founder said the next five to 15 months would be a tough time for the mainland, citing the impact of President Xi Jinping's anti-corruption fight. But he said Beijing's 7 percent gross domestic product (GDP) target was still achievable during that time frame.
In a bigger perspective, Alibaba shares are down more than 20 percent from last year as the world's second-largest economy grows at its slowest pace since 2009, with GDP sliding below 7 percent in the July-September quarter following weakening investment, excess capacity in the industrial sector and a strong currency.
Because Alibaba's business model relies on consumption, a broad economic slowdown is worrisome in the longer term and shadowing any short-term boost from record Singles' Day sales.
"The largest area of concern for Alibaba is the slowdown of Chinese growth and how that might hurt the domestic consumption, and that's the dark cloud over all the Chinese internet names today.
Others were more upbeat on Alibaba's outlook as they acknowledge that negative sentiment on the company's stock was directly tied to views on the broader economy, but said it was misguided. They believe that this is a complete misread for China internet/e-commerce, because those companies are delivering solid fundamentals even during a time that the country is slowing.
Ask us about our FREE financial advice program:

Other Top Stories:
Technical Analysis Lesson 1 - Introduction
How I Made Over $30,000 a Year by Investing in Binary Options
Follow us and SHARE this story on Facebook: