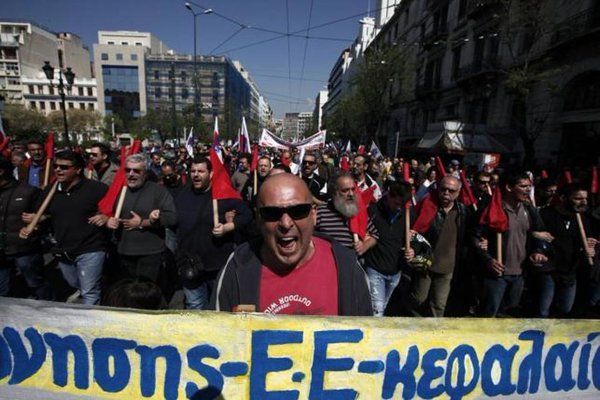 Clashes broke out between riot police and youths in central Athens during the first general strike since the country's left-led government initially came to power in January.
Youths broke away from a protest march by thousands as it passed outside parliament and threw Molotov cocktails at police who responded with tear gas and stun grenades.
Nearly 25,000 people had been participating in three separate demonstrations in central Athens, according to police figures, protesting a new round of bailout-related tax hikes and spending cuts.
The 24-hour general strike has caused widespread disruption across Greece, with numerous public services shutting down.
Public transport was severely disrupted. The Athens metro and suburban railway shut down while bus and trolley routes were reduced and ferries remained tied up in port, severing connections between islands and the mainland. More than a dozen domestic flights were also cancelled.
Prime Minister Alexis Tsipras' has shown sympathy for the strike. The party's department that deals with labor policy called for mass participation in the walk-out to protest "the neoliberal policies and the blackmail from financial and political centers within and outside Greece."
The strike closed museums, state schools and pharmacies, while state hospitals were functioning with emergency staff. Journalists also walked off the job, pulling news bulletins off the air except to report on the strike. News websites were not being updated, while no Friday newspapers were to be printed. Lawyers, too, were scaling back their work.
Tsipras, who won re-election in September, signed up to the bailout in a dramatic policy change despite initially campaigning vigorously against bailouts and their accompanying austerity conditions. He has said he had no choice but to agree to the deal to prevent Greece from defaulting on its debts and being forced out of Europe's joint currency.
"I believe strikes can turn into a boomerang for the worker, but there are times when people need to react," said 61-year-old Yannis Nikolaidis as he marched in the protest near parliament. "This is the time when people need to react. Enough already with the taxes, enough with the double talk. They need to let us breathe."
The government is currently locked in negotiations to reach an agreement on the disbursement of a 2 billion-euro installment ($2.2 billion), as well as 10 billion euros set aside for the recapitalization of its banks. While Greece has met many of the requirements, it remains at odds with creditors over how to deal with non-performing loans and the repossession of homes whose owners have fallen into arrears on mortgage payments.
Ask us about our FREE financial advice program:

Other Top Stories:
Technical Analysis Lesson 1 - Introduction
How I Made Over $30,000 a Year by Investing in Binary Options
Follow us and SHARE this story on Facebook: