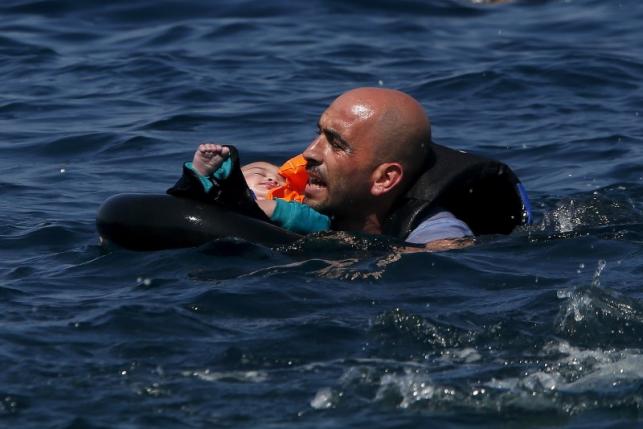 Images of a father struggling to hold his baby above the waves and of drowned Syrians washed ashore have not deterred Racha Sattout from gambling her life to seek sanctuary in Germany after fleeing a Syria ripped apart by war.
For her and thousands of others waiting to cram onto rubber boats on Turkey's shores to cross to the Greek islands, the choice is simple: die in Syria or risk death at sea in the hope of reaching safety and a new life in Europe.
But after she saw the heart-wrenching pictures of Aylan Kurdi, the Syrian Kurdish toddler who drowned this month, she decided to take that risk alone. She left her daughter Riham, 8, and son, Raed, 10, with her husband in Aleppo, and traveled to Turkey. Her hope is to win refugee status in Germany and thereby the right to bring her family to her new home.
But Racha's experience on her journey to date has been bitter, and is typical of the hardships and exploitation suffered by the thousands following the same treacherous route.
A week after arriving in Turkey, using money her sister sent her from Spain for the trip, she was still stranded in a hotel in the coastal city of Izmir at the mercy of people smugglers greedy for money.
"Every night the smuggler says this will be the night of the journey, but he keeps stalling and increasing his prices while my money is dwindling away," she says. Now she has moved in with a Syrian family in Izmir and is looking for another smuggler.
The unstoppable flow of people risking tiny rickety boats and the chicanery of smugglers to cross the Mediterranean shows no sign of abating, and is personalizing the collective tragedy of tens of thousands of Syrian refugees.
They are fleeing a conflict that began as a popular uprising in 2011, but quickly turned into a war that has killed over 250,000 people, creating more than 4 million refugees and displacing some 7.6 million more within the country.
Reminders of the risks come daily. Thirty-four refugees, 15 of them children, drowned when their boat sank off a Greek island on Sunday. Thousands have died in what is fast becoming Europe's worst refugee crisis since the Second World War.
The refugees' stories speak of a devastated homeland, tremendous dangers to escape and rewards available to those who smuggle them – including fellow Syrians who have taken on the job of trying to make a treacherous passage safer.
Racha says that when a shell landed yards from her son six months ago, she and her husband decided it was time to flee Aleppo, a trading city fought over by the forces of President Bashar al-Assad, mainstream rebels and jihadi forces, including Islamic State.
"We sleep in bombardment and we wake up in bombardment," she said. "The situation in Syria is only getting worse; there is no sign that our ordeal will end, and the sea to Europe is the only hope left for us." Asked if she had seen the news reports of people drowning and whether that put her off, her answer was immediate.
"I'm scared of dying but...we're dying in Aleppo a hundred times a day – what's the difference? At least if I make it I might be able to do something to save the family." "When I look at how much my children are suffering, my heart aches.