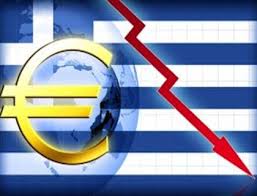 Banks in Greece will not open on Monday as a desperate measure by officials to try and prevent the country's financial system from collapsing in panic.
Account holders will face tough limits on what they can withdraw from ATMs, and the stock exchange will reportedly be shut.
The measures were announced Sunday as Greece slid rapidly toward default and exit from the eurozone.
European leaders are now facing one of the worst moments in the history of the euro. President Obama called German Chancellor Angela Merkel on Sunday, and the two agreed to take all steps to try to resolve the crisis.
The trigger for the rapid escalation in the crisis was the Greek government's decision late Friday to pull its negotiators out of bailout talks.
Prime Minister Alexis Tsipras is accusing Europe of 'blackmail' as the European Central Bank said Sunday it would provide no new emergency support to Greek banks. Tsipras slammed a draft proposal from Europe and the International Monetary Fund, and said he would put it to the Greek people in a referendum on July 5.
Be aware that trading in EURO and other European markets like DAX, CAC, and FTSE, will be dangerous at this point.
Ask us about our FREE financial advice program:

Other Top Stories:
Technical Analysis Lesson 1 - Introduction
How I Made Over $30,000 a Year by Investing in Binary Options
Follow us and SHARE this story on Facebook: