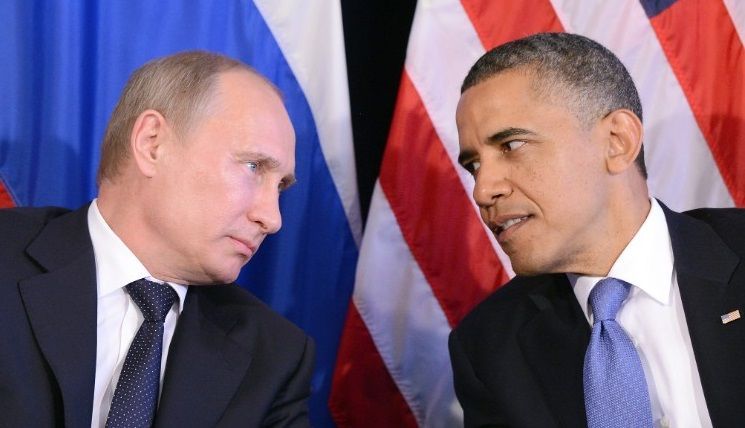 When Vladimir Putin met with Barack Obama in Turkey on Sunday to discuss the terrorist attacks in Paris, he brought along some photos.
The satellite images showed rows of trucks laden with Islamic State oil stretching into the Syrian horizon, a person familiar with matter said. Putin's point was that U.S. bombing alone can't eliminate the vast smuggling network that provides much of the extremist group's funding.
Obama was already well into a stepped-up campaign against the group's oil resources and that night U.S. aircraft destroyed 116 tankers hauling crude from seized fields. The raid, the largest of its kind since U.S. military action in Syria started last year, happened to coincide with a new phase of Russia's assault on the same nexus.
While Obama has publicly refused Putin's offer to coordinate, their actions have started to align since the downing of a Russian airliner in Egypt and the carnage in France, indicating movement toward a more robust alliance against terrorism.
"After the events in Paris and over the skies of Sinai, the EU and the U.S. are showing greater willingness to support Russia's idea of forming a common front to fight Islamic State," Russian Deputy Foreign Minister Sergei Ryabkov told Bloomberg News on Thursday.
In Putin's meeting with Obama, the Russian president "stressed the need" to step up the fight against Islamic State's oil business, said his spokesman, Dmitry Peskov, without providing more details.
A united front would be bad news not just for the jihadists, but for everyone they do business with. The U.S. and Russia are both widening their target lists to include the middlemen who help the group make money off illicit oil sales.
While the U.S. has struck refineries and other oil targets held by Islamic State in Syria and Iraq more than 260 times since last summer, only now is it starting to hit links in the chain operated mainly by civilians, according to U.K. research group Chatham House and Washington-based Foreign Reports Inc.
"This is a major escalation," Foreign Reports Vice President Matthew Reed said. "The big shift is that middlemen are now in the cross hairs. Those are people who are in it for the money, they aren't true believers and could be scared away from the trade."
The U.S. is hoping the Paris bloodbath "will galvanize others to do even more" in the effort against terrorism, Defense Secretary Ash Carter said on Tuesday, according to the Pentagon.
Putin is doing just that. This week, Russian warplanes, backed by increased satellite capabilities, started to "free hunt" vehicles illegally transporting fuel in Islamic State areas. They destroyed around 500 trucks over several days, the Defense Ministry said in a statement, without saying exactly when the attacks occurred.
France, too, is preparing to escalate its assault on Islamic State, which has been concentrated on the group's Syrian stronghold of Raqqa.
French President Francois Hollande said Wednesday that the aircraft carrier Charles de Gaulle had set off from the Mediterranean port of Toulon, boosting the number of jets available for strikes to 48 from 12. Hollande is due to meet his U.S. and Russian counterparts in Washington and Moscow next week to discuss coordinating actions.
Ask us about our FREE financial advice program:
Other Top Stories:
Technical Analysis Lesson 1 - Introduction
How I Made Over $30,000 a Year by Investing in Binary Options
Follow us and SHARE this story on Facebook: