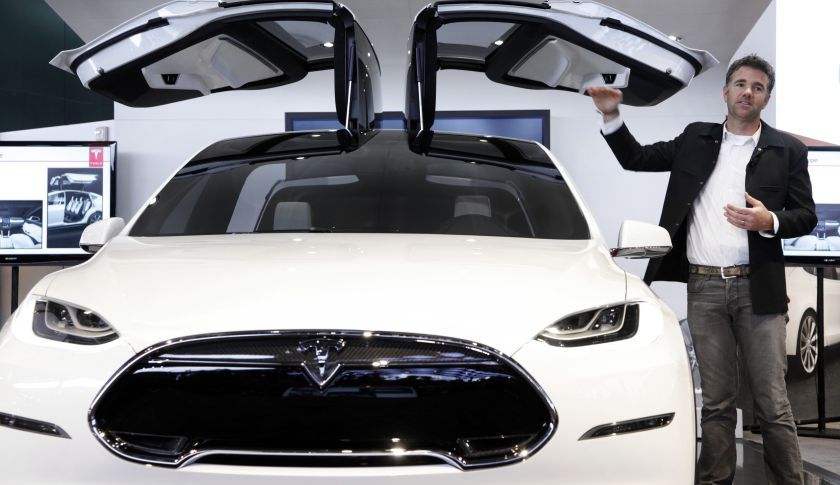 The Model X is finally here.
Shares of Tesla (TSLA) were up a little less than 1% Wednesday morning, while the broader market rallied. The reviews of the Model X have been nothing short of spectacular. Tesla CEO Elon Musk should be pleased.
Chris Ziegler at The Verge wrote that driving the Model X in the so-called Ludicrous Mode left him with a "dumb grin on my face when I smash the accelerator." "My brain is basically unable to mathematically comprehend how a car of this width, height, and girth is able to hustle like that," he added.
Wired gushed that "Tesla's Model X Is Here, and It's as Awesome as We Hoped" -- adding that it's "gorgeous" and "futuristic." "The doors have sensors to detect nearby objects, which should keep them from striking objects or limbs that might be in the way. If that's not cool enough, the driver's-side door can open and close for the approaching driver without a single human touch."
And Greg Kumparak at TechCrunch wrote that "I was hoping I might walk away from my short test drive in Tesla's Model X without the desire to throw down $130,000 I don't have... Alas."
The unveiling of the oft-delayed Model X SUV comes at an interesting time for Tesla and the rest of the industry. Tesla's stock has held up relatively well during a rocky third quarter. Shares are actually up more than 10% this year.
Investors have largely shrugged off concerns about sluggish sales in China, the possibility that low gas prices will hurt demand for electric cars and a valuation that could be considered the equivalent of its vehicles' Insane Mode.
So will the Model X push Tesla's stock even higher?
Trip Chowdhry at Global Equities Research wrote in a report early Wednesday that "Tesla just killed every other manufacturer."
Chowdhry raved that Tesla has re-defined the SUV. He's predicting that Tesla could sell 89,000 vehicles overall in 2016 and report revenue of $9.11 billion. Those estimates are higher than Wall Street's consensus forecasts.
And Chowdhry's price target on Tesla's stock is $385 -- more than 50% higher than current levels. Amazingly enough, that price target is conservative compared to some of his fellow analysts. Stifel's James Albertine thinks Tesla could hit $400.
Albertine wrote in a report Wednesday that concerns about further delays to Model X production because of design issues now appear to be "overblown" and that he's also not too worried about the possibility that Model X sales will eat into Tesla's Model S sedan demand.
And then there's Tesla uber-bull Adam Jonas of Morgan Stanley. Jonas has a price target of $465 for Tesla.
Ask us about our FREE financial advice program:

Other Top Stories:
Technical Analysis Lesson 1 - Introduction
How I Made Over $30,000 a Year by Investing in Binary Options
Follow us and SHARE this story on Facebook: