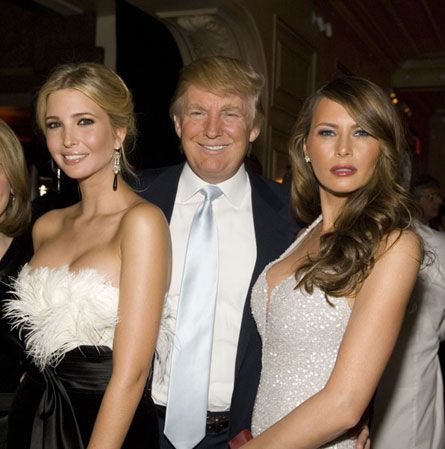 Donald Trump vows that if he's elected president, he would "be the greatest jobs president that God ever created."
One of the main reasons Trump cites is that he's a businessman. He has already created jobs, he argues, so he'll do it on an even bigger scale as president. So how many jobs has Trump created as a businessman? Analysis calculates said that at least 34,000 jobs are attributed to Trump.
It's not the most straightforward calculation. His company, The Trump Organization, is private, so it does not have to disclose information publicly about how much money it makes or how many people it employs. His campaign didn't give a specific figure either.
According to PrivCo, the Trump Organization has 22,450 employees and brought in $9.5 billion in annual revenue last year. But that's not the whole picture. There are likely other jobs that might not exist without Trump. Economists call this the "multiplier effect."
New York's Broadway shows are a good example. Visitors who come to see shows, may stay at least a night or two at New York City hotels and spend money at restaurants and stores. So any analysis on the economic and job impact of Broadway takes into account more than just ticket sales and employment of actors, singers and stage hands.
The same holds true for Trump's resorts and hotels. The state of New York says that "leisure and hospitality" companies like Trump's typically have a 1.5 multiplier effect. Using that multiplier, the Trump Organization is responsible for about 34,000 jobs.
This is a rough estimate. There are arguments to be made that it should be higher or lower. Trump has acquired some existing properties, so one could argue he didn't create those jobs.
On the plus side for Trump, his name appears on many businesses he doesn't fully own, and he's been part of a successful television franchise with "The Apprentice" on NBC. It's possible to argue that he should get credit for some jobs in those ventures as well, even if they weren't part of the Trump Organization.
A more generous estimate would be to view the Trump Organization as a financial services or management company. Then the employment multiplier would be 3. That would bring jobs attributable to Trump to 67,000.
Ask us about our FREE financial advice program:

Other Top Stories:
Technical Analysis Lesson 1 - Introduction
How I Made Over $30,000 a Year by Investing in Binary Options
Follow us and SHARE this story on Facebook: