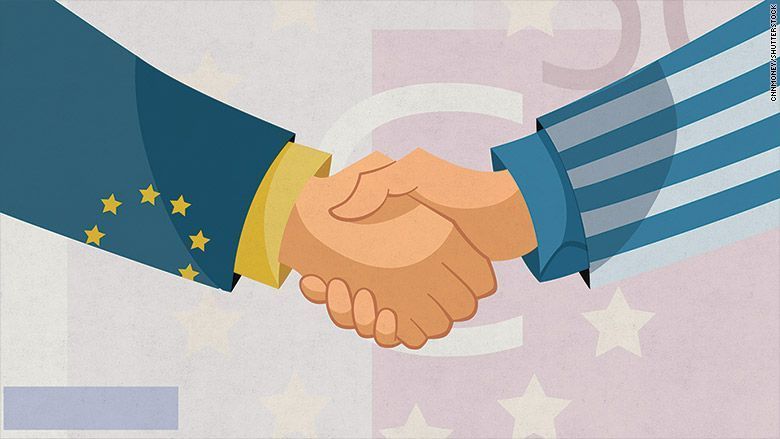 Euro zone leaders clinched a deal with Greece on Monday to negotiate a third bailout to keep the near-bankrupt country in the euro zone after all-night talks at an emergency summit.
However, the terms imposed by international lenders led by Germany may put more pressure on leftist Prime Minister Alexis Tsipras, fracture the government and cause an outcry in Greece.
If the summit had failed, Greece would have been staring into an economic abyss with its shuttered banks on the brink of collapse and the prospect of having to print a parallel currency and in time, exit the European monetary union.
"The agreement was laborious, but it has been concluded. There is no Grexit," European Commission President Jean-Claude Juncker told a news conference after 17 hours of bargaining.
He dismissed suggestions that Tsipras had been humiliated by accepting far-reaching, German-inspired terms he long promised to resist.
"In this compromise, there are no winners and no losers," Juncker said. "I don't think the Greek people have been humiliated, nor that the other Europeans have lost face. It is a typical European arrangement."
Tsipras himself, elected five months ago to end five years of suffocating austerity, insisted he and his team "fought a tough battle" but had to make difficult decisions.
Instead, he won conditional agreement to receive a possible 86 billion euros ($95.29 billion) over three years, along with an assurance that euro zone finance ministers would start within hours discussing ways to bridge a funding gap for Greece until a bailout - subject to parliamentary approvals - is finally ready.
German Chancellor Angela Merkel said she could recommend "with full confidence" that the Bundestag authorise the opening of loan negotiations with Athens once the Greek parliament has approved the entire programme and enacted the first laws.
Asked whether the tough conditions imposed on a desperate Greece were not similar to the 1919 Versailles treaty that forced crushing reparations on a defeated Germany after World War One, she said: "I won't take part in historical comparisons, especially when I didn't make them myself."
EU officials said Tsipras finally accepted a compromise on German-led demands for the sequestration of Greek state assets worth 50 billion euros - including recapitalised banks - in a trust fund beyond government reach, to be sold off primarily to pay down debt. In a gesture to Greece, some 12.5 billion euros of the proceeds would go to investment in Greece, Merkel said.
Ask us about our FREE financial advice program:

Other Top Stories:
Technical Analysis Lesson 1 - Introduction
How I Made Over $30,000 a Year by Investing in Binary Options
Follow us and SHARE this story on Facebook: