After a long wait, iOS 8 is finally launching today. According to Apple, iOS will be available to download today (September's 17) at 1pm Eastern Time in the US, which is 6pm in the UK.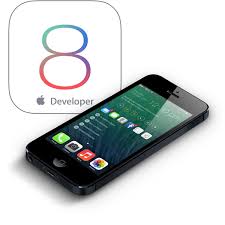 What are the advantages of upgrading to iOS 8? There are a lot of new features that are available by upgrading to iOS 8. Here are some of them:
Voice messages.
Family Sharing.
Health and HealthKit.
Widgets.
New typing features (whole-word predictive typing and third-party keyboards).
Third-party implementations of Touch ID (although obviously this only applies to you if you're on an iPhone 5s, iPhone 6 or iPhone 6 Plus).
For you traders out there, the Touch ID feature can now be used with third-party apps. For example, e-commerce apps would be able to use fingerprint authentication for extra safety.
What are the disadvantages of upgrading? Basically, the device might work slower if you have an old device like iPhone 4 or iPad 2. This happened with iOS 7 and it may happen again with the iOS 8.
Keep your eye on the Apple share today, which may rise if the launch is successful or fall if there will be serious problems.