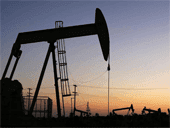 (may 11 2014) Oil price fell lower than $102 a barrel today after official figures showed United States oil production at a twenty eight-year high & stockpiles start to rise again.
A little after midday in Europe, benchmark US crude for June delivery went down by 43 cents stopping at $101.94 a barrel on the New York Mercantile Exchange. Just a day ago, the Nymex contract went up by 67 cents to close at $102.37.
A benchmark for international oil grades, the Brent crude, went down by 15 cents to close at $109.16 a barrel on the ICE Futures exchange in London.
This loss in value came in the wake of figures from the United States Energy Information Admin. revealing that local crude production reached 8.428 million barrels in the week ended 9th May, the highest level attained since the tenth month of 1986. During the same period, crude stockpiles went up by 900,000 barrels last week, disappointing bookmakers that had been expecting a decline.
A stronger U.S. dollar also had its effects on prices, causing crude priced in dollars more costlier and also less attractive to businessmen using other currencies. However, the International Energy Agency increased its forecast for 2014 global oil demand to 92.8 million barrels per day, 65,000 barrels more than its previous forecast just a month ago.
Worldwide supplies increased by 700,000 barrels in April over the previous month, to a little above 92 million barrels a day, with over 50 % the rise being accounted for by OPEC members like Iraq, Nigeria & Saudi Arabia, the IEA based in Paris revealed.
"Yet oil prices remain on the high side & forecast balances call for a notable rise in OPEC output from current levels for the 2nd half of the year," the IEA stated in its Oil Market Report which is does monthly. "While OPEC countries have more than enough capacity to deliver, it is expected to be seen if it will manage to conquer the above-ground hurdles that have infested many of its member countries of late."
In other energy futures trading in New York:
— Natural gas went down by 1.8 cents to $4.349 per 1,000 cubic feet.
— Heating oil went down by 0.18 cent to $2.9644 per gallon.
— Wholesale gasoline went down by 0.46 cent to $2.9463 per gallon.