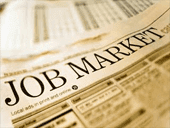 (May 9 2014) Economic Analysts look forward to the 2nd -quarter GDP to top a 3 % pace. The drop in the labour force which was recorded last month could have been propelled by some of the 1.35 million people who lost their longer-term unemployment benefits at the end of 2013.
As they are no longer getting their unemployment benefits they have lost most of their incentive to continue looking for work as required by the law. A portion of the decline in participation in the labour market also reveal changing demographics, as well as citizens going on disability as they wait to reach retirement.
Sung Won Sohn, an economist at California State University Channel Islands in Camarillo, California was quoted to have said "Baby boomers are retiring & the various state benefits including disability are major contributions to the drop in the participation rate". Still there doubts are very low that the labour market is getting stronger. A broad indications of unemployment, which includes americans who want to work but have put a stop to looking & those working only part-time but want more work, fell to a twenty year low of 12.3 % last month. It was at 12.7 % just 2 months ago.
Also, the volume of people that have been unemployed for over 6 months saw its highest decline since October 2011 & the average duration of unemployment fell from 35.6 weeks to 35.1 weeks in March 2014.
The short term jobless rate got to a new cycle-low of 4.1 %. Gains in employment in April were broad based, with the private sector contributing 273,000 jobs while government payrolls rose by 15,000. Manufacturing employment went up 12,000 after rising 7,000 in the month before. Construction payrolls also gained 32,000 after an increase of 17,000 during the same period.
Inspite of the very notable gains, average hourly earnings went flat in April, indicating the lack of wage pressure & still ample slack in the nation's economy.
"There are just no signs of any broad based wage pressure," commented Josh Feinman, chief global economist at Deutsche Asset & Wealth Management in New York. "There are still slacks in the labour market & with labour costs still liveless in the water, the Federal Reserve is probably not going to have to rush to raise rates."
It was also noted that the length of the workweek stayed steady at 34 ½ hours last month after coming back in March from its winter-depressed levels.