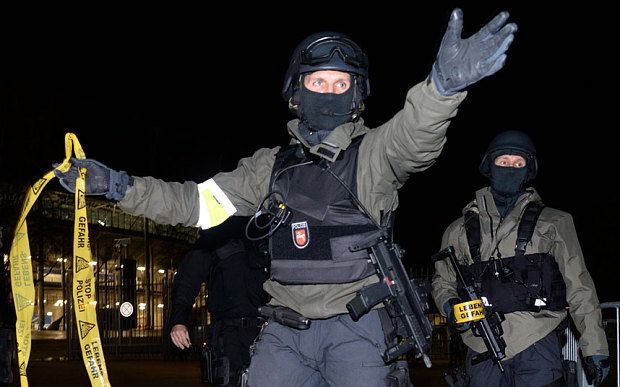 Two Air France flights bound for Paris from the United States were diverted for several hours on Tuesday following anonymous bomb threats, and more than 700 passengers and crew were safely taken off the planes, officials said.
Flight 65, an Airbus A-380 that departed from Los Angeles, landed safely in Salt Lake City, where passengers and crew were escorted into the terminal, a spokesman for the Federal Aviation Administration said. The Salt Lake Tribune, citing an airport official, said it was carrying 497 passengers and crew.
The FBI said in a statement that no evidence was found aboard the plane "which would lend credibility to the threats" against the flight. The airport said operations were not affected, and local Utah media including broadcaster KSL reported that passengers had been cleared to reboard and resume their journey.
Keith Rosso, a passenger who tweeted a photo shortly after takeoff from Los Angeles, said he was "thankful to everyone who has been working to keep everyone calm and make sure air travel is safe. Hope to be taking off again shortly."
A separate Boeing 777 that left Dulles International Airport outside Washington, D.C., Flight 55, was diverted to Halifax International Airport in Nova Scotia, which said 262 passengers and crew members had safely disembarked.
In a brief statement, Air France said both flights had been the "subjects of anonymous threats received after their respective take-offs."
"As a precautionary measure and to conduct all necessary security checks, Air France, applying the safety regulations in force, decided to request the landings of both aircraft," the airline said in its statement.
It said authorities inspected the aircraft, passengers and luggage, adding: "An investigation will be led by the authorities to identify the source of the telephone call."
Security officials have been on high alert since Islamic State militants claimed responsibility for attacks last week in Paris that killed 129 people. Russia has said the group was also responsible for the downing on Oct. 31 of a plane returning to St. Petersburg from the Sharm al-Sheikh resort in Egypt, killing all 224 on board.
The incidents did not appear to be causing flight delays or cancellations elsewhere.
According to data on flight tracking website flightradar24.com, flights operated by both Air France and other airlines appear to be taking off and landing normally at Charles de Gaulle Airport in Paris.
In another story, gunfire and explosions shook the Paris suburb of St Denis early on Wednesday as French police surrounded a building where a Belgian Islamist militant suspected of masterminding last week's attacks in the French capital was believed to be holed up.
Two assailants were killed, including a woman who detonated a suicide bomb, a source close to the case said, adding that the police operation was continuing to flush out two other suspects.
The target of the raid, which filled the streets of St Denis with heavily armed police and soldiers, was Islamic State militant Abdelhamid Abaaoud, who was initially thought to have orchestrated the Paris attacks from Syria, police and justice sources said.
A judicial source said police had originally been hunting other suspects in St Denis, but now believed he was one of those barricaded in the building.
Shooting began at about 4.30 a.m. (10.30 p.m. ET) and police Special Forces of the RAID unit were still involved in exchanges of fire three hours later, witnesses said.
"The operation is still under way. It's not over," local Member of Parliament Mathieu Hanotin said on France Inter radio. "Everyone must stay indoors. There are still gunmen holed up in the apartment."
Three police officers and a passerby were injured in the assault. A police source said three suspects had been arrested so far with security forces still trying to "neutralize" two more at the scene close to the Stade de France stadium which was one of the targets of last Friday's attacks.
The coordinated series of bombings and shootings killed 129 people, the worst atrocity in France since World War Two. Investigators soon linked the attacks to a militant cell in Belgium which was in contact with Islamic State in Syria.
The third event occurred lately when a soccer game between Germany and Netherlands which German Chancellor Angel Merkel was due to attend in Hanover was called off two hours before its scheduled start on Tuesday over fears of a planned bombing.
The match was due to have been held four days after the deadly attacks in Paris on Friday, when suicide bombers targeted the soccer stadium where Germany were playing France.
"We had received specific indications that an attack with explosives was planned," Hanover Police President Volker Kluwe told NDR state broadcaster. "We took them seriously and that is why we took the measures."
"We do not know if these people, who had planned something for the stadium, had planned something else so we try to have a presence throughout the city," he said
Police vans with loudspeakers ordered fans to leave the Hanover stadium and heavily armed officers positioned themselves outside the arena.
Ask us about our FREE financial advice program:

Other Top Stories:
Technical Analysis Lesson 1 - Introduction
How I Made Over $30,000 a Year by Investing in Binary Options
Follow us and SHARE this story on Facebook: