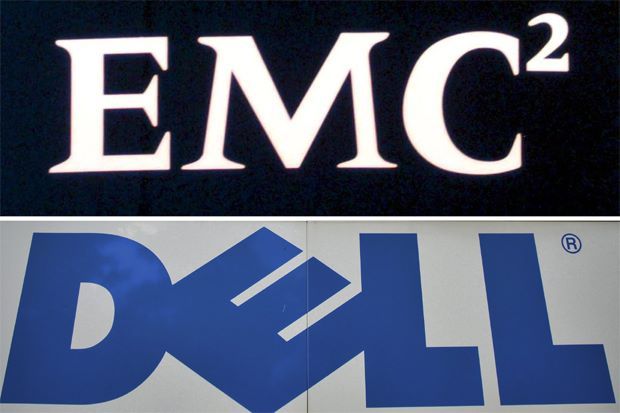 Dell's move to pay over $53 billion to buy EMC in the world's biggest-ever technology merger is coming to its last stages.
Dell is expected to announce EMC's acceptance of a buyout offer by Monday or Tuesday, US-time. Dell is a global household name that manufactures PCs and servers. EMC on the other hand, is a lesser-known technology company that has focused on creating data storage, cloud computing and big data systems.
The combination of both would create a hardware and software titan. Analysts warned such mega-deals come with risks. "Large purchases like this often don't work out that well," said Kevin McIsaac, an IT infrastructure analyst with Intelligent Business Research Services.
Reuters reported that EMC's board had agreed to accept the deal with an offer of $US33 per share, citing sources close to the deal. Around $US25 per share would be paid in cash, and the rest would be paid to EMC shareholders with a special stock that tracks the market value of VMWare, the virtualisation software company majority-owned by EMC.
EMC is expected to have included a "go-shop" clause that would give it 60 days to find rival suitors in an effort to convince shareholders that Dell had offered the best deal.
Microsoft and Cisco are the most likely potential buyers but industry watchers have expressed doubts that either party will beat Dell's offer, which was 27 per cent more than EMC's share price before news leaked out last week.
The largest technology tie-up prior to this move involved the May merger of Broadcom and Avago, which was worth $US37 billion ($50.4 billion) and is yet to be completed.
If completed, the deal would be the second large buy-out by Michael Dell, one of the pioneers of the PC industry, in barely two years.
He bought out the PC company that bears his surname two years ago for $US25 billion to help undertake a drastic overhaul that he said would have been tough to complete if it had remained publicly-listed.
Taking Dell private also made it far simpler for the technology giant to acquire its rivals and would-be collaborators without running the risk of facing the wrath of major shareholders.
Mr Dell will be hoping that this advantage extends to the newly-merged entity, which will then have the firepower to restructure and reinvest in successful segments of its business without being scrutinised on the New York Stock Exchange.
Combining both companies also makes strategic sense. Where Dell has traditionally focussed on building IT servers, the hardware of data centres, EMC specialises in making the smarts that make the systems sing.
Its big data systems are designed to analyse vast tranches of information and find disparate patterns that corporate and government customers then use to improve products and policies.
This would allow Dell to be a one-stop shop for both the data centre systems that store the rapidly rising amounts of information produced by society and the software that turns it into productive sense.
But the deal also comes with tremendous risk because it creates a technology conglomerate in an era when many players, such as Google and Hewlett Packard, are splitting up their divisions to become more nimble.
The Financial Times also reported that Dell is in talks to raise over $US40 billion from an array of banks at a period of continuing uncertainty about the global economy.
Ask us about our FREE financial advice program:

Other Top Stories:
Technical Analysis Lesson 1 - Introduction
How I Made Over $30,000 a Year by Investing in Binary Options
Follow us and SHARE this story on Facebook: