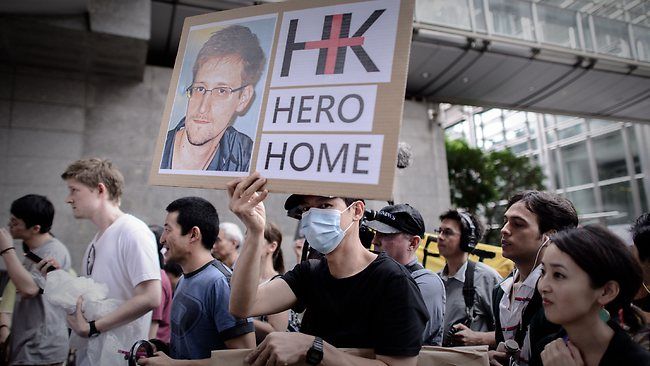 Edward Snowden, the fugitive who exposed the mass-surveillance practices at the National Security Agency, is now on Twitter, and he already has more followers on the social network than the NSA.
His account, which has been verified by Twitter as authentic, isn't hard to find: It's @Snowden. His attorney, Ben Wizner of the American Civil Liberties Union, confirmed to the Los Angeles Times that Snowden himself controls the account.
Snowden gained almost 300,000 followers in less than two hours after he tweeted his first message Tuesday morning. Soon after, he posted a cheeky swipe at his former employer, the NSA, whose account only has 76,000 followers. (The NSA is also the only Twitter account that Snowden follows.)
The NSA did not immediately respond to The Times' request for comment about Snowden, a former contractor for the agency who has been granted asylum in Russia to avoid espionage and theft charges in the U.S. related to his 2013 leaks. But Twitter's interim chief executive, Jack Dorsey, responded to Snowden's first tweet:
Dorsey's welcome is not an outlier. Although Snowden is officially a wanted man in the eyes of the U.S. Justice Department, his voice has been repeatedly amplified by America's most esteemed mass-media institutions.
After the Guardian and the Washington Post published a series of stories about NSA's surveillance practices based on Snowden's disclosures, judges awarded both outlets Pulitzer prizes.
After documentarian Laura Poitras created a film about Snowden's leaks, "Citizenfour," the Academy of Motion Picture Arts and Sciences gave her an Oscar for best documentary. Snowden's story will also be featured in a major Hollywood movie, "Snowden," starring Joseph Gordon-Levitt and directed by Oliver Stone.
Twitter, one of Silicon Valley's most popular social-media companies, accommodated Snowden's wish to join Twitter by clearing out an old account that had claimed the @Snowden handle but had not tweeted for three years, according to The Intercept.
A Twitter spokesman did not immediately respond to an interview request from The Times seeking more information about the company's decision to give Snowden the blue "verified" checkmark given to public figures and celebrities.
Twitter's policies forbid users from using the service "for any unlawful purposes or in furtherance of illegal activities," which implies the company believes that Snowden using its service while avoiding prosecution doesn't constitute a crime. (U.S. Army whistleblower Chelsea Manning also has a verified Twitter account, which is reportedly remotely operated by supporters who relay Manning's messages from prison.)
Snowden himself noted that the government would likely be interested in his presence on Twitter with an allusion to Ft. Meade, Md., the home of the NSA.
Snowden's choice to join Twitter was also notable for security reasons, given that he has shown how the NSA's broad collection of Americans' personal information was made possible by cooperation with the tech and communications companies that often hold that information.
Twitter's terms of service note that the company may collect a user's "IP address, browser type, operating system, the referring web page, pages visited, location, your mobile carrier, device information (including device and application IDs), search terms, and cookie information."
In a recent interview with Fusion, Snowden noted that he was worried about joining social-media services for security reasons.
"Exploit codes [could be embedded] into the transactions I'm receiving from a legitimate service and compromise the security of my devices. I've been working for a long time on improving that and creating set-ups that are more robust and survivable when you do get owned," Snowden told Fusion, adding: "How do you limit the damage? How do you recover in the wake of a compromise? I've made a lot of strides in that and am looking forward to, hopefully, participating [on social networks] in a more open and active manner in the near future."
One of the tipping points appears to be a recent interview that Snowden conducted with celebrity astrophysicist Neil DeGrasse Tyson.
"I tried to find you on Twitter, and I couldn't find your handle ... you kind of need a Twitter handle, so like, @Snowden, maybe, is this something you might do?" Tyson asked Snowden.
"That sounds good, I think we gotta make it happen," Snowden replied, laughing. "You and I will be Twitter buds ... your followers will be the Internet, me and the NSA, it'll be great."
And sure enough, one of Snowden's first tweets was directed at Tyson, with a nod toward the recent discovery of water on Mars.
Ask us about our FREE financial advice program:

Other Top Stories:
Technical Analysis Lesson 1 - Introduction
How I Made Over $30,000 a Year by Investing in Binary Options
Follow us and SHARE this story on Facebook: