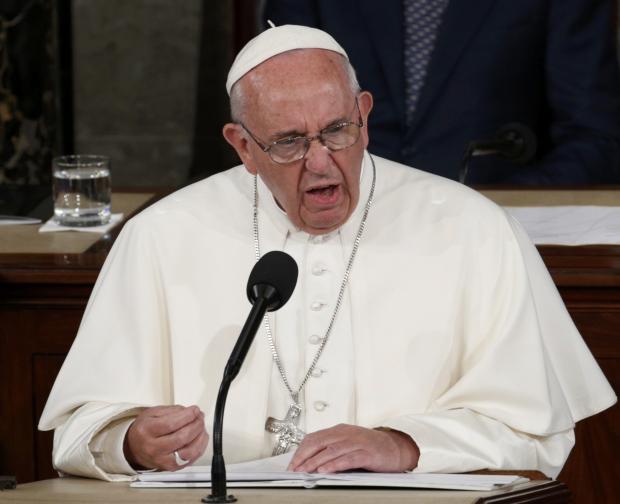 Pope Francis goes to the United Nations on Friday to address global leaders on the need to help refugees fleeing wars and plea for greater attention to the world's poor and downtrodden.
The pope arrived in New York on Thursday night from Washington after urging Congress to help heal many of the nation's divisive wounds such as the current heated political battle over immigration.
A brass band from a Catholic high school greeted his plane with the classic tune "New York, New York," and the pope accepted flowers from the crowd of about 200 at the airport.
Apart from addressing the General Assembly, he will also lead an inter-religious prayer service at the site where al Qaeda militants brought down the World Trade Center on Sept. 11, 2001, killing nearly 3,000 people.
He will also visit a Catholic elementary school in Harlem whose students are mostly immigrants or refugees, parade through Central Park, and say Mass in New York's famed Madison Square Garden.
Two years into his papacy, Francis has won the admiration of many in the United States, with liberals captivated by his focus on meeting the needs of the poor and addressing the excesses of capitalism, while some conservatives have expressed dismay that he has given less emphasis to the Roman Catholic Church's longstanding opposition to abortion and gay marriage.
The 78-year-old leader of the world's 1.2 billion Catholics offered a hint of the issues he would address at the UN's 70th anniversary in a wide-ranging speech to Congress on Thursday.
"Our world is increasingly a place of violent conflict, hatred and brutal atrocities, committed even in the name of God and of religion," Francis said. "Our world is facing a refugee crisis of a magnitude not seen since the Second World War. This presents us with great challenges and many hard decisions."
Hundreds of thousands of refugees fleeing years of fighting in the Middle East have attempted to cross into Europe this year, raising tensions within the European Union as member states argue about their obligations to harbor newcomers.
The pope early this month called on every European parish to take in a refugee family, a move that could provide shelter for tens of thousands of families.
The pope's arrival in New York on Thursday resulted in a heavier security presence throughout midtown Manhattan at a time when police are normally out in force for the United Nations General Assembly, which brings dozens of world leaders to the city.
The New York Police Department warned that it expected to set up some 37 miles (60 km) of barriers along roadways during Francis' visit. He is the third pope to visit New York City in the last 20 years.
The city's transit agency urged commuters not to drive into Manhattan on Friday and one company advertised $95 cross-town helicopter rides for people hoping to escape the resulting gridlock.
Juanita Jara, a 58-year-old nanny, said she would be among the crowd at the Madison Square Garden Mass and that she hoped Francis would continue his message of support for immigrants a day after he urged Congress to avoid an attitude of "hostility" to newcomers.
"I am a citizen, but a lot of people suffer separation from the family. I, for a long time, suffered that," said Jara, who emigrated from Paraguay a quarter-century ago. "I hope he pushes that."
The pope is also expected to repeat his plea for governments to take action to stem climate change, a call he made most prominently in "Laudato Si" the first papal encyclical dedicated to the environment, which was published in July.
That document has proven controversial in U.S. politics. Republicans, who in recent decades have embraced popes for their public opposition to abortion and gay marriage, criticizing the paper.
The pope will conclude his U.S. visit on Sunday with an open-air Mass in Philadelphia for 1.5 million people.
Ask us about our FREE financial advice program:

Other Top Stories:
Technical Analysis Lesson 1 - Introduction
How I Made Over $30,000 a Year by Investing in Binary Options
Follow us and SHARE this story on Facebook: