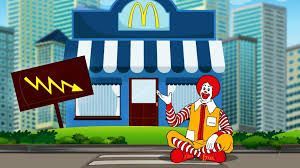 McDonald's sales plunge as it Posts Seventh Straight Quarter of Falling U.S. Sales
The fast food giant reported a 10% drop in quarterly sales and earnings per share on Thursday. And while that was good enough to beat Wall Street's meager expectations, McDonald's CEO Steve Easterbrook called the results "disappointing."
McDonald's has been struggling, and the troubles led to the ouster of former CEO Don Thompson in January.
Since taking over, Easterbrook has stressed that McDonald's must make big changes to convince people that they should eat at the Golden Arches.
Easterbrook unveiled the company's turnaround plan in May.
That announcement had a lot of marketing gobbledygook phrases like "modern progressive burger company." But it left many analysts wondering -- to borrow a famous old slogan from rival Wendy's (WEN) -- where's the beef?
Wall Street -- and customers -- wanted more details about how the company planned to spruce up the menu.
Easterbrook said in a statement Thursday that the company is "seeing early signs of momentum" and predicted a sales rebound in the third quarter. Thursday's results showed a decline in same-store sales of 0.7% worldwide and 2% in the United States.
But for McDonald's to get back on track, it all comes down to the food. And it seems that customers, especially Americans, are still not happy.
The company noted that a main reason for the tepid results was because "featured products and promotions did not achieve expected consumer response amid ongoing competitive activity."
Translation: The food stinks and consumers are going elsewhere.
Ask us about our FREE financial advice program:

Other Top Stories:
Technical Analysis Lesson 1 - Introduction
How I Made Over $30,000 a Year by Investing in Binary Options
Follow us and SHARE this story on Facebook: