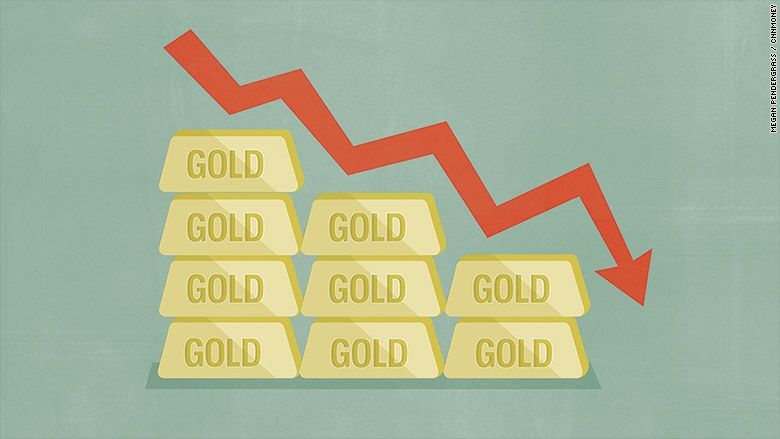 Materials like copper, aluminum, gold and oil are dropping in value, raising concerns about the health of the global economy.
The CRB raw industrials spot price index is now at its lowest level since November 2009. The Bloomberg Commodities Index touched levels unseen since June 2002.
Just this week, crude oil prices retreated to $50 a barrel, while gold tumbled below $1,100 an ounce to five-year lows.
And mining stocks like Newmont Mining (NEM), Barrick Gold (ABX) and Coeur Mining (CDE) are down 20% to 25% this month alone.
So why is this happening? David Kelly, chief global strategist at JPMorgan Funds, said that "It's a yellow flag for the global economy. I don't think it's a heads up that we're headed for disaster, but I do think it tells us something."
There is simply isn't enough demand: Soft global economic growth has hurt demand for some of the most closely-watched industrial metals like copper and iron ore, as well as oil.
While China is growing faster than many countries, it has slowed drastically in recent years. That's a critical factor, because China's previously-insatiable demand for natural resources made it the world's "swing consumer."
China's slowdown is playing a huge role in the demand picture. Growth in the first half of 2015 slowed to the weakest level since 2009 -- and there's growing rumblings among investors that Beijing may be fudging the numbers.
Many other emerging markets like Brazil and Russia are growing at a sluggish pace, too. So are developed economies like Europe and to a lesser extent the U.S. The International Monetary Fund recently downgraded its global growth forecast to 3.3%, the weakest pace since the financial crisis.
"We're not going into a global recession, but there isn't a lot of growth out there either," said Michael Block, chief strategist at Rhino Trading Partners.
Ask us about our FREE financial advice program:

Other Top Stories:
Technical Analysis Lesson 1 - Introduction
How I Made Over $30,000 a Year by Investing in Binary Options
Follow us and SHARE this story on Facebook: