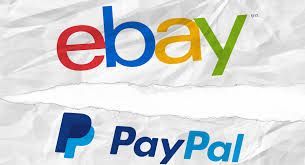 eBay and PayPal will trade as two separate companies from today.
The split sees PayPal listing independently on the stock exchange.
The split comes more than ten years after eBay bought the payments firm in 2002. But in September last year, it announced plans to divide the two companies, letting PayPal off into a separate entity.
eBay Chief Executive John Donahoe said the decision was taken because it was best for each business and would create additional value for shareholders. He added the two companies will continue to work closely together.
Once the two businesses were seen as being among the shrewdest combinations in Silicon Valley history.
eBay, as a younger company, needed a reliable way for shoppers to pay for their purchases on its site.
The split leaves the two firms' top executives free to focus on their individual businesses.
PayPal will start trading on the NASDAQ as an independent company while eBay will continue as its own separate public company.
PayPal is expected to be valued at around $44bn, potentially eclipsing the estimated $35bn for eBay's marketplace after the split.
Ask us about our FREE financial advice program:

Other Top Stories:
Technical Analysis Lesson 1 - Introduction
How I Made Over $30,000 a Year by Investing in Binary Options
Follow us and SHARE this story on Facebook: