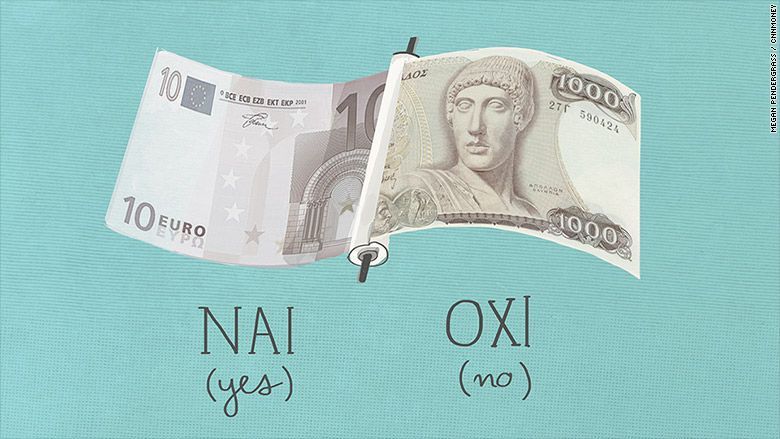 Greece is divided right down the middle heading into Sunday's referendum on European bailout proposals, portending even more upheaval for the stricken nation.
A poll commissioned by Bloomberg News showed 43 percent intend to vote "no" to reject the austerity demanded by creditors in exchange for financial aid; 42.5 percent back a "yes" to accept the conditions, the survey of 1,042 people by the University Of Macedonia Research Institute Of Applied Social and Economic Studies showed. The margin of error was 3 percent.
The survey suggests that the plebiscite may not resolve anything as the nation's economic and political crises deepen. While the poll showed more than four in five Greeks want to stay in the euro, the nation's crippled banks and Premier Alexis Tsipras's isolation from other European leaders have thrown into doubt the country's future in the currency union.
"This referendum had divided Greek society among two groups who have a different understanding of the question at hand," Nikos Marantzidis, the pollster and a professor of political science at the university, said in an e-mail. There are supporters, "those who really think that the future of the country is outside the euro area and even the EU, and those who consider the referendum to be a negotiating tactic."
Tsipras called the snap vote unexpectedly last weekend as talks with creditors broke down. He argues that Greeks can reject their proposals and still remain in the euro, winning better terms for its debt in the process — a claim disputed by almost everyone else.
Ask us about our FREE financial advice program:

Other Top Stories:
Technical Analysis Lesson 1 - Introduction
How I Made Over $30,000 a Year by Investing in Binary Options
Follow us and SHARE this story on Facebook: