The hardest hits to take are the ones that we do not expect and the ones we do not see coming. They are obscured by a general situation in the world and as a result are not expected at all. This was the nature of the Turkish behavior yesterday. No one expected that the country is going to start an attack on the neighboring Syria and as a result the whole world was caught off guard. Ankara launched both airstrikes and ground operation against the Kurds living in Syria as Trump said it was a bad idea and European leaders have judged actions of Turkish president and urged him to seize the operation. And of course we watch this in horror as 15 people are already reported dead with the operation not even going on for full 24 hours.
But it is the reaction of the markets that interests us today and now. A year ago when Trump and Syria failed to find common ground, Trump temporarily launched political hits on Turkey. This was perceived as a dangerous time to trade Turkish lira and it was falling hard for weeks. Now, when USA seem to not be involved in the conflict, we are trying to make sense – why is lira not falling more rapidly?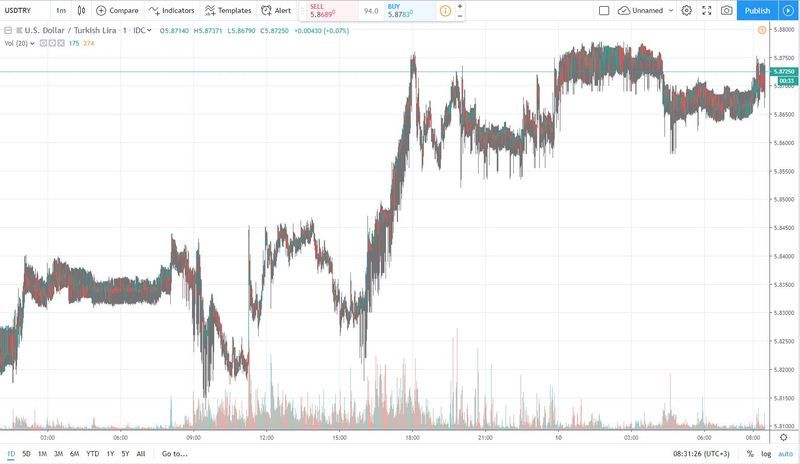 Of course the initial jump of USD/TRY was terrific for those who managed to catch it, but now there is something of a price consolidation. And we wonder why the fall of lira was not more rapid? After all, Turkey practically went into a state of war with Syria and we are still trading it. The answer here is that we might be in the very beginning of the USD/TRY chart growth. The situation might be similar to what happened to Russian ruble after Russian annexed Crimea in 2014 and started a war in the Eastern part of Ukraine. It is possible that lira is going to see the same fall now as RUS did back then.
The situation is not going to improve in the nearest future. Use your trading signals to make heads or tails of it.