Tools Trades Mobile APP Review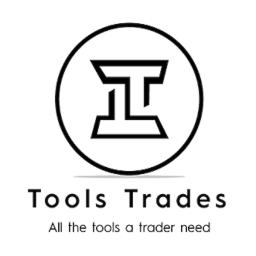 With the development of information technology, many different sources of data are available around us. It's becoming difficult to keep all the necessary information in order. Especially in such an important area as financial markets. Therefore, our team saw a need to develop a convenient mobile application that would be able to solve the problem of dispersed sources of information, and which would also be more useful than browsing the web pages.
But the main purpose of our application is to provide comprehensive information support, both for experienced users and for people who are just beginning to learn the financial independence tools. Now you can see for yourself how convenient and easy-to-use this application is. And so you can get to know it right away, we'll take a look at some of its features right here:
1. Menu.
Immediately after opening the application, we can see a user-friendly and easy-to-read menu. The menu items are standardized and logically organized. The unobtrusive ambient color scheme is selected to achieve the desired contrast while maintaining your vision with the optimal display effect. A nice detail is that each menu item has a small signature that describes the function of these buttons.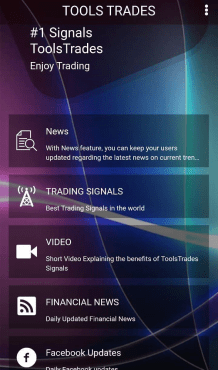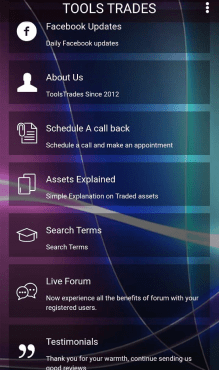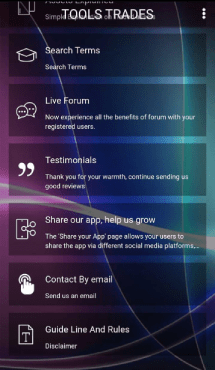 2. Signals Info.
Here you can see brief summaries on currency pairs.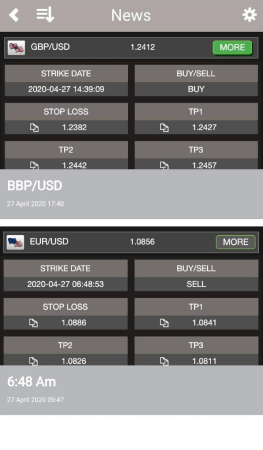 3. Trading Signals
The pride of our service. Here you can get free signals to buy/sell currency pairs and many other assets. There is also an added advantage for registered users in a wider range of signals. Especially convenient is the opportunity to write to our managers in the chat, right from here. Answer speed and consulting results will always make you happy as it is one of our main business goals.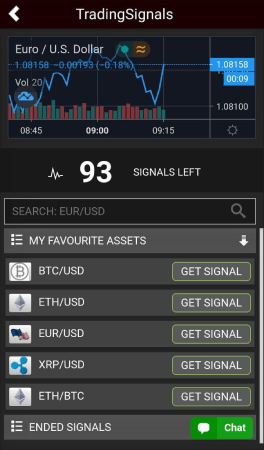 4. A short introductory video. 
We understand that it may be more beneficial for you to watch the video to see what we can do for you. That's why you have this option in this menu item.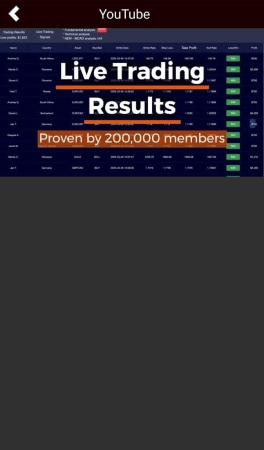 5. Financial news.
Here you can see daily updated financial market news and analytical trading reviews. The monitoring of this section can significantly help you to navigate the current situation in the financial market and stay up to date with all the latest events.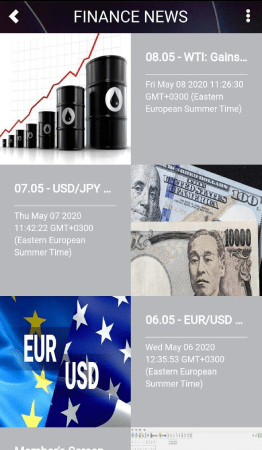 6. Facebook Updates.
All publications and news from Tools Trades website are displayed here in chronological order.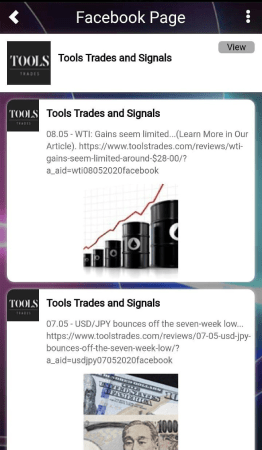 7. About us.
Brief information about our company, and our experience in helping achieve financial success for over 200,000 members. For more information, you can always visit our website, or write to our managers in the chat room.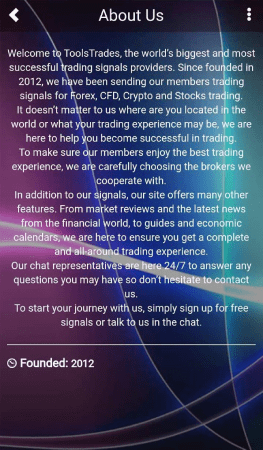 8. Schedule a call.
A unique and extremely convenient feature in the Tools Trades application. We deeply appreciate the need of our members to effectively manage their time. With this feature, you can schedule a free consultation by phone, at any time you want! We are always in touch.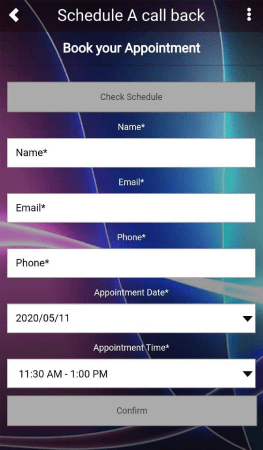 9. Asset Explanation.
The quick guide to asset classification.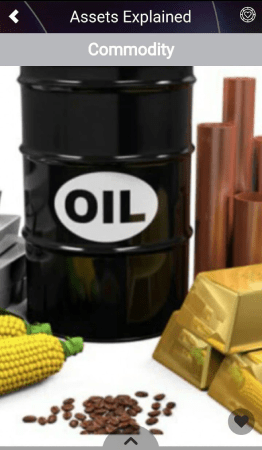 10. Search terms.
The sphere of financial markets is full of terms. And often even pros can come across new terms. Here you can find and explore the meaning of a new concept that you are interested in.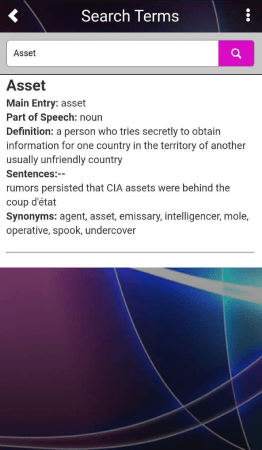 11. Forum.
This feature allows you to communicate with other registered members.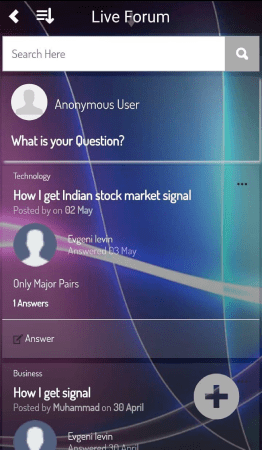 12. Testimonials.
Feedback from our members is available in this section. Thank you for your kind words. It is a great joy for us to read your letters. We are happy to be of value to you. This is our main goal. You can also find more reviews at toolstrades.com.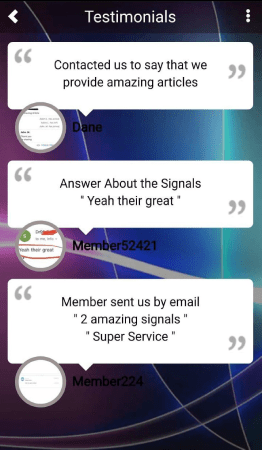 13. Share the application.
Are your friends and colleagues also interested in and working with financial markets? You can share our application in any suitable way. This will provide more people with the ability to use such useful tools. And it also allows us to grow and become better for our users.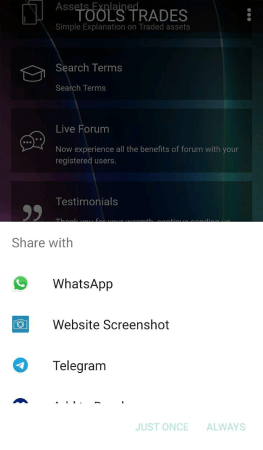 14. Contact us by email.
You can always write to us with any email you want. This is also not the only way to contact us. You can text us on Facebook. But there are cases when you need an immediate response. In that case, you should text our manager in a chat room.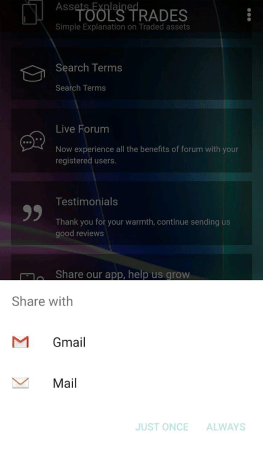 15. Guideline and rules.
Short rules of interaction.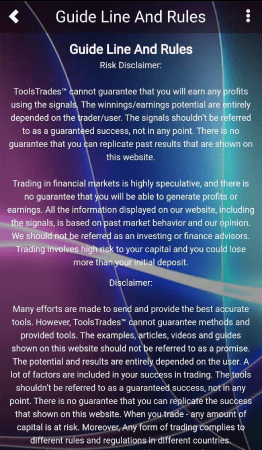 We are constantly working to improve our service so that our members can benefit from the financial markets. That is why we want to make trading tools available to everyone so that everyone can be confident in their financial stability and well-being. 
You can join thousands of our successful members right now. Download the completely free mobile application "Tools Trades" from official markets: