The ugly side of football tournaments.
According to Human rights campaign group Amnesty International, the 2022 World Cup is being built on forced labor.
The organization has accused Fifa of failing to stop migrant abuse occurring across a World Cup 2022 site in Qatar, calling it "a stain on world football".
According to Amnesty, migrants who work in and around the Khalifa Stadium, one of 12 Stadiums being built or renovated for the World Cup, are subjected to squalid accommodation, passport confiscation and employer intimidation. They are paid lower wages than promised and are held to contracts until they pay off large fees commanded for simply securing them the work.
"The abuse of migrant workers is a stain on the conscience of world football," Amnesty International secretary general, Salil Shetty, said in a press release. "For players and fans, a World Cup stadium is a place of dreams. For some of the workers who spoke to us, it can feel like a living nightmare.
"Despite five years of promises, Fifa has failed almost completely to stop the World Cup being built on human rights abuses." One of the recruiters talk on the matter: "They were promised $260 (£184) per month, plus a little bit extra for food, but what they actually get is $130 (£92) per month," he said. "Now $260 when you've paid $1,000 to $4,300 in a recruitment fee to begin with is not very much money.
"And when you've got family on top of that, a wife, children, ailing parents and siblings, and you want to send money back for them... These are people who will take months or years just to break even.
"When you add on top of that the lack of dignity with the way that they're treated, it's pretty shocking."
Fifa which has been hit by corruption scandals in the past 12 months, insists it is working with human rights groups and Qatar to improve conditions for workers on World Cup sites.
It stated in a press release: "Since 2011, Fifa has met with key stakeholders, including Amnesty International, to discuss the best way forward to achieve consistent and sustained implementation of fair working conditions on Fifa World Cup construction sites as quickly as possible. This is an ongoing process. Challenges remain, but Fifa is confident that the structures and processes set-up so far by the Supreme Committee."
Amnesty official Shetty added: "Hosting the World Cup has helped Qatar promote itself as an elite destination to some of the world's biggest clubs. But world football cannot turn a blind eye to abuse in the facilities and stadiums where the game is played.
"If Fifa's new leadership is serious about turning a page, it cannot allow its showcase global event to take place in stadiums built on the abuse of migrant workers."
Building these fancy stadiums comes with a price.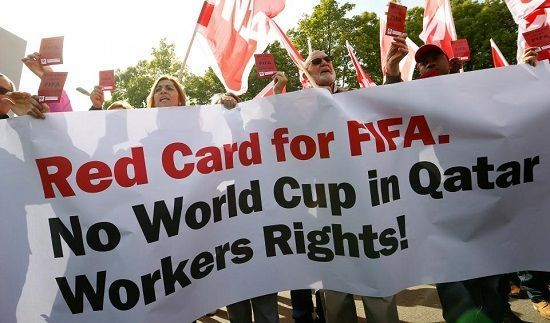 people are protesting against FIFA in Qatar