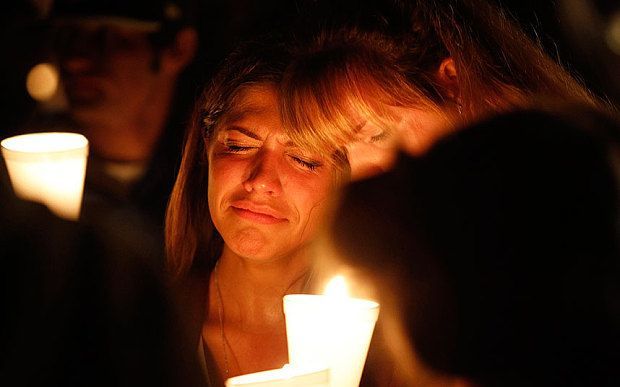 A gunman stalked onto an Oregon college campus on Thursday and opened fire, killing nine people and wounding seven before police shot him to death, authorities said, in yet another burst of U.S. gun violence that ranked as the deadliest this year.
The suspect, who witnesses say fired dozens of shots in a classroom full of screaming students, was slain in an exchange of gunfire with two police officers in Snyder Hall at Umpqua Community College in Roseburg, ending the morning rampage.
The gunman was not publicly identified by local authorities. A law enforcement source named him as Chris Harper-Mercer. Other media said he was 26.
In a photo posted on a MySpace profile believed to be his, a young man with a shaved head and dark-rimmed eyeglasses is seen staring into the camera while holding a rifle.
CNN reported the suspect was armed with three handguns, a "long gun" and body armor. According to survivors, the gunman at one point ordered cowering students to stand up and state their religion before shooting them one by one.
Stacy Boylan, the father of an 18-year-old student who was wounded but survived by playing dead, told CNN his daughter recounted her professor being shot point blank as the assailant stormed into the classroom.
"He was able to stand there and start asking people one by one what their religion was," Boylan said, relating the ordeal as described by his daughter. "'Are you a Christian?' he would ask them. ... 'If you're a Christian, stand up. Good. Because you're a Christian, you're going to see God in just about one second,' and he shot and killed them. And he kept going down the line doing this to people."
Another student, Kortney Moore, 18, who was present in the writing class when the gunman entered and survived unhurt, gave a similar account to the local News Review newspaper.
Authorities offered no explanation for the gunman's actions.
"The law enforcement investigation into the shooter and into his motivations is ongoing," Douglas County Sheriff John Hanlin said at an afternoon news conference. He also said three of the wounded victims were hospitalized in critical condition.
Hanlin refused to name the gunman. "I will not give him the credit he probably sought via his horrific and cowardly act," he told reporters.
The massacre in Roseburg, a former timber town on the western edge of the Cascades some 260 miles (420 km) south of Portland, was the latest in a flurry of lethal U.S. mass shootings in recent years.
Thursday's was the deadliest this year, surpassing the nine killed in a gun battle between motorcycle gangs in Waco, Texas, in May, and the nine who died in the rampage of a gunman at a black church in Charleston, South Carolina in June.
Not counting Thursday's incident, 293 mass shootings have been reported this year, according to the Mass Shooting Tracker website, a crowd-sourced database kept by anti-gun activists that logs events in which four or more people are shot.
The violence has fueled demands for more gun control in the United States, where ownership of firearms is protected by the Second Amendment of the U.S. Constitution, and better care for the mentally ill.
President Barack Obama, speaking just hours after the rampage, said the mass killings should move Americans to demand greater gun controls from elected officials.
Ask us about our FREE financial advice program:

Other Top Stories:
Technical Analysis Lesson 1 - Introduction
How I Made Over $30,000 a Year by Investing in Binary Options
Follow us and SHARE this story on Facebook: